---
4 EFFECT x 3 ZONES FACE CREAM MUSK ROSE
---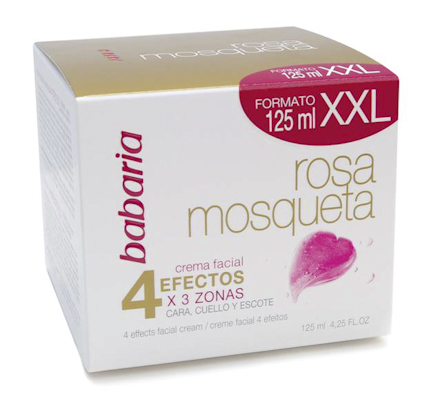 Specifications
Produkto Nmr.: 31620
EAN: 8410412 056281
Talpa: Formato XXL, tarro de 125ml.
Kiekis dežutėje: 6
Para cara, cuello y escote
Descripción:
A product for the 3 zones of concern: face, neck and chest. The careful selection of active ingredients results in 4 much requested anti-age effects: -It revitalises cells that produce ellastin and collagen, both found in large amounts in young skin, where they remove wrinkles -Firming anti-wrinkle effect on epidermis tissue. -Prevents cell damage by protecting ADN and has an anti-oxidation effect. -Renews dead skin, rejuvenates mature skin, and leaves skin looking younger and healthier

TESTED UNDER DERMATHOLOGICAL CONTROL. NOT TESTED ON ANIMALS.

- Previene los daños celulares, por su poder anti- oxidante y protector del ADN.

- Renueva las zonas caídad de la piel, y rejuvenece las pieles maduras, aportando un aspecto más jóven y saludable.

Testado dermatológicamente. No testado en animales.
Presentación: Size XXL, 125ml pot.
Unidades en caja: 6
EAN 8410412 056281
Código: 31620
Es posible que también estés interesado en: